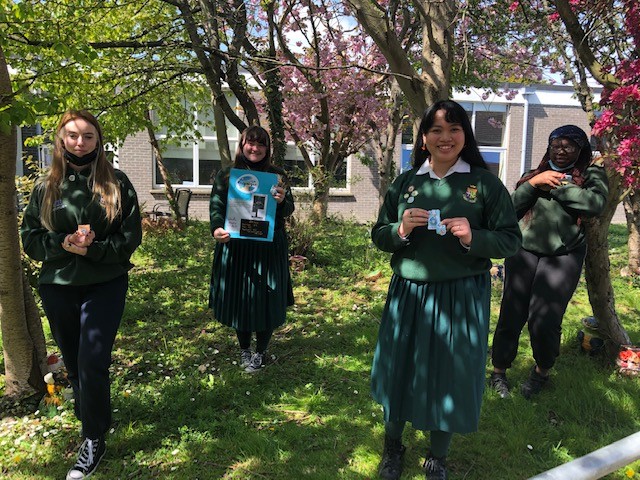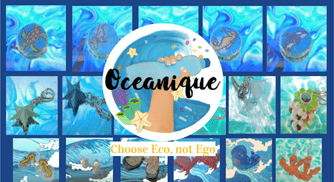 Mercy College Coolock  Dublin 2021-077 Senior
Oceanique's mission statement is to conserve and raise awareness of the ocean's ecosystem and its marine life by reducing waste.
We had 3 main goals : 
Raise awareness about the impacts of climate change & pollution.

Encourage  people to dispose of waste correctly and reduce waste.

Educate everyone about the importance of the eco-system around us, as well as how to be kinder to our planet.
We wanted people from our school and local community to become aware of their impact on the environment.  We decided to collect waste materials during a beach cleanup at Dollymount beach and create accessories like : ear-rings, pins and keychains. We replicated endangered marine life in our products such as jellyfish, sea lions, turtles, orcas, seahorses, whales etc  Each product was created out of materials collected from the beach and school. Eg: the jellyfish ear-rings were made from plastic bottles. Our packaging is proudly plastic free and it is created from leftover scraps and used paper from school.
Instagram is the main medium that is used to showcase our message, we wanted as many people to access our page as much as possible. To ensure this, posters were put around our school (made of leftover paper) to not only promote us as a business, but to highlight the effect that waste has on our planet. A QR code was also attached to the posters so that if scanned, on lookers would be redirected to our instagram page.   We also sold our accessories at our school Trade Fair and had a small company wanting to go into partnership with us.
1. Set up an etsy and tiktok account to promote our products and increase sales.
2. Expand our business by producing different accessories like : bracelets, necklaces etc.  
3. Raise awareness, educate and encourage local primary school students to be environmentally friendly by creating lesson plans to influence younger students to get involved in upcycling.
4. Hannah, a member of our team in an active Climate ambassador with An Taisce, plans to use her position to improve Oceanique. 
In conclusion, pollution and climate change need to be tackled and we as young environmentalists will continue to unify as many people as we can to play their part for our planet and reduce waste. We all need to contribute for a better future.
Overall, the biggest lesson we learned was to have fun doing our tasks whilst having a positive impact on the environment. 
Anti-Discrimination Mural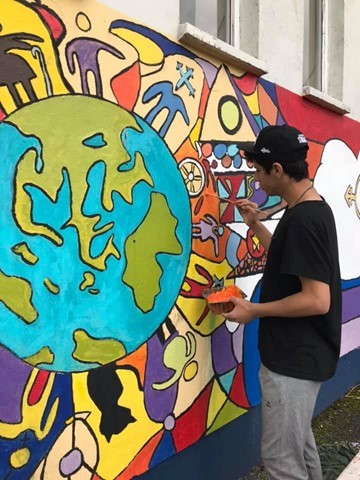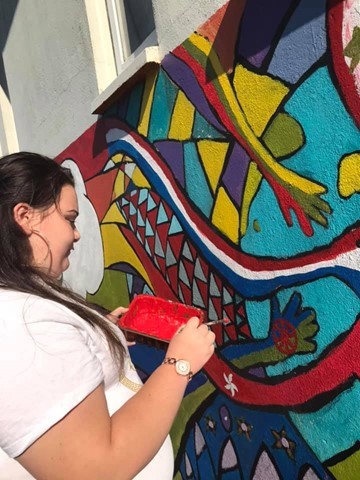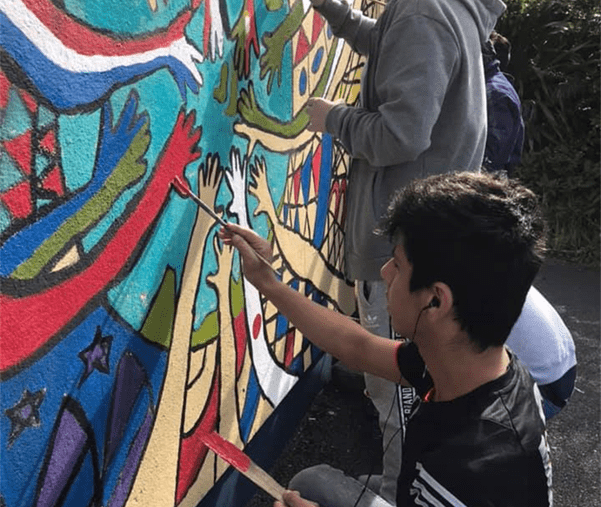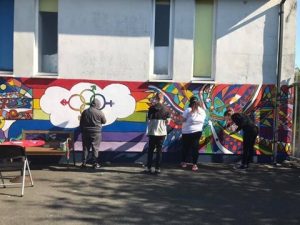 Youthreach Navan Meath 2021-181 Senior
Our Youthreach is made up of a lot of different backgrounds, cultures, ethnic minorities and LGBT+ students and stopping discrimination is very Important to us as many of group experience discrimination on a daily basis" Student 2021. All students were involved in designing a large mural at the back of our building. Use a variety methodologies e.g.– role-play, group work, pair-work, running debates, learning centres, word searches, sentence completion exercises, surveys, interviews, quizzes, video, etc. students explore the theme of discrimination before designing their mural. They then voted on which images to use from all the art work completed. They reflected on the completed work and learning experience and posted photos of all stages of the work on Social media.

Teachers organised movies and guest speakers to help build the foundations for the project. the I.T. Teacher got her class to invite Tomáš Reichental is a Holocaust survivor to the centre. He was born in Czechoslovakia in 1935 to Jewish farmers and lived with his family on their farm until he was the age of eight. At this age laws started coming in that prohibited the movement and rights of Jewish people and that is when he and his family went into hiding. Unfortunately he, his mother, his brother and his grandmother were caught and taken to Bergen-Belsen concentration camp in 1944 where they stayed until the camp was liberated by the British in 1945. This was a deeply moving experience for both staff and students. Maths Teachers helped with presenting survey results. Communications, Social education and personal effectiveness teachers showed movies like Schlender's list, Rabbit Proof Fence and American History X. We also did a social experiment on Blue eyes and Brown eyes from Jane Elliot. Our wall really brightens up or community and sends a strong visual message of equality and respect for all as a result of the mural we have been invited to do an art piece for the Kells TypeTrail 2021, now celebrating its 11th year, is an annual festival celebrating typography and lettering as a modern art form. Each year one word is translated into a variety of languages reflecting the diversity of the community in Kells, this years theme is the word Identity. We feel we have a wider effect on the whole community as our group are from diverse groups within our community and are spreading the word of no discrimination and respect for all.