Youth Climate Summit 2021 - COP26
Following the UN Climate Change Conference 2021 (COP26), we will be running The Youth Climate Summit 2021. Every Wednesday from the 20th October until the 11th November we will be hosting a series of activities and events including the launch of our youth survey, taking action through our pledge initiative.
Join us, put your thinking COP on and take a pledge for climate!
Climate Action with SpunOut
28th October
6:00-7:00pm
Day in the life of an
Eco-Villager
3rd November
11:00-11:45am
Winds of Change
3rd November
5:00-6:00pm
Steps to Climate sucess
10th November
5:00-6:00pm
Youth Climate Justice Challenge 2021
We've all heard about global warming, energy shortage, soil degradation and biodiversity loss. They're all big terms, but WHAT do they all mean? And most importantly WHO are they impacting? and how do WE find solutions?    
A consortium of 5 youth organisations, led by ECO-UNESCO is running the second Youth Climate Justice Challenge, with partners Gaisce The President Award, The No Name Club, Irish Girls Guides & Young Irish Film Makers. The free Climate Justice Challenge Programme explores these questions and inspires youth climate action.   
The Programme launches on 20th September and ends on 4th December. We are very flexible with dates and times. 
Online, after school hours.
Young people age 10-17 living in Ireland.
Young people often express of not finding similar minded people who are as enthusiastic about climate action as them, or who want to meet policymakers to make an impact but don't know how to do. If you are the one who desires to be the change rather than sit in the audience, you are in right place. The ECO-UNESCO Climate Justice Programme is not just about learning on Climate Justice, its various interlinkages but also the action you can make to address it.
In this programme you would not just meet like-minded people your age but also have an opportunity to showcase your action before prominent climate personalities.
By the end of the Climate Justice Challenge you will greatly improve your understanding of Climate Justice, overcome eco-anxiety, enhance your presentation skills (presenting in front of your class and in before climate motivated people is way around), project management skills and of course a filmmaking workshop by none other than Young Irish Filmmakers.   
In Climate Justice we discern how just passion is not enough to create change, therefore we equip and support our participants with skills needed to make real, concrete change.  
If you're feeling inspired and want to jump on the bandwagon then sign up for the Climate Justice Challenge 2021.
Want to know more about Climate Change and Climate Justice? 
Youth Climate Justice Challenge 2020
Last year we had 11 incredible Climate Justice projects submitted by four youth groups; The Irish Girl Guides, The Irish Girls Brigade, The No Name Club, and ECO UNESCO. 
The Climate justice challenge participants didn't let COVID stop them. They took part in online workshops, sent surveys to schools, tweeted local politicians, made tik tok videos, talked on national radio, ran workshops, wrote articles, and engaged with policymakers from principles to politicians, shop keepers, and the local council.
Their hard work and dedication raised awareness of the topic of climate justice to over 20,000 people. 
The youth groups made short and snappy videos to summarise what they did for their climate justice projects. Take a look here for a daily dose of inspiration.
Youth Climate Justice Survey 2020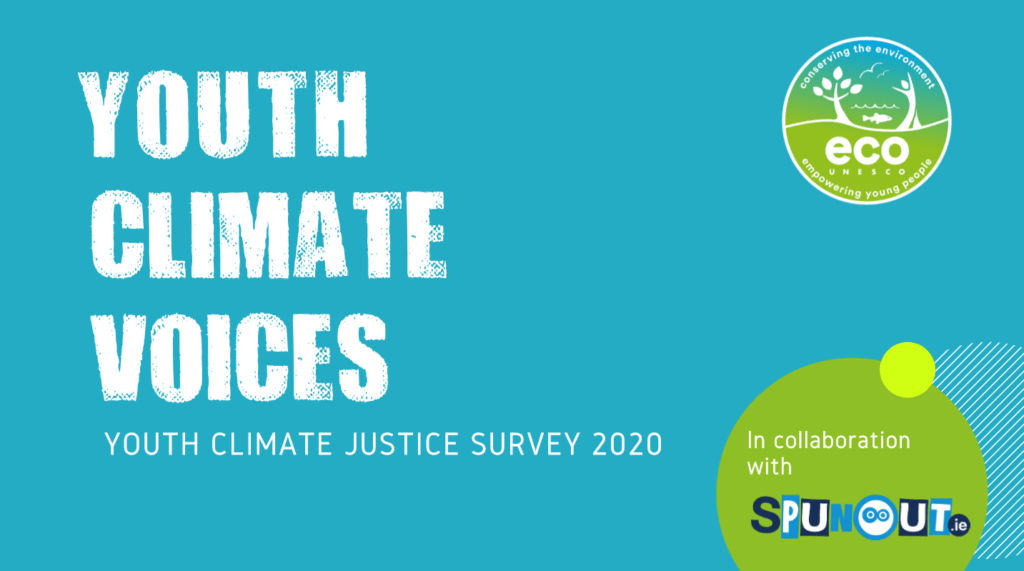 Watch the Youth Climate Voices Video
As part of our Climate Justice Eco Week we asked all our amazing speakers including activists, academics, politicians, dancers to share with us their favourite resources that inspire them. We have pulled them all together to share with you a variety of podcasts, playlists, articles, reading lists, ted talks and more….. Take a look at our padlet board you won't be disappointed
If you want to learn more about Climate Justice, then check out our resources page below. We have pulled together some beautiful items to support you with exploring the topic of climate justice and help you on your journey to enacting positive social and environmental change. Enjoy!
Thank you to our partners