Youth Climate Justice Survey 2020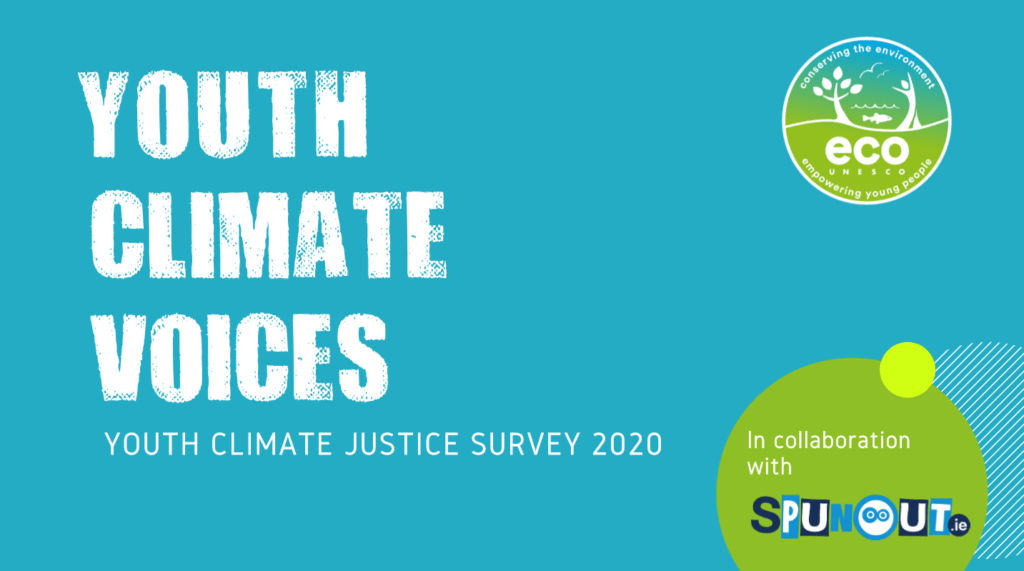 What is the Youth Climate Justice Challenge?
The Youth Climate Justice program has been designed to give young people the opportunity to learn and explore the topic of climate justice. The program provides a set of workshops created to upskill young people on project management, communication skills, and video editing. The program aims to provide young people with the skills and knowledge to empower them to feel confident to stand up, take action and create change.
The Climate Justice challenge gives young people the opportunity to;
Learn about Climate Justice through interactive workshops 
Learn project managing skills 
Learn 'how to communicate effectively with people in power to enact change'
Attend a film editing workshop ran by The Young Irish Film Makers
Take part in a weeklong climate justice-themed program with talks, workshops, and activities
Design and deliver a group action project to create change
The opportunity to showcase their action project to the public.
Last year we had 11 incredible Climate Justice projects submitted by four youth groups; The Irish Girl Guides, The Irish Girls Brigade, The No Name Club, and ECO UNESCO. 
The Climate justice challenge participants didn't let COVID stop them. They took part in online workshops, sent surveys to schools, tweeted local politicians, made tik tok videos, talked on national radio, ran workshops, wrote articles, and engaged with policymakers from principles to politicians, shop keepers, and the local council.
Their hard work and dedication raised awareness of the topic of climate justice to over 20,000 people. 
The youth groups made short and snappy videos to summarise what they did for their climate justice projects. Take a look here for a daily dose of inspiration.
If you're feeling inspired and want to jump on the band wagon then sign up to our mailing list and we will let you know when we open up applications for the next Climate Justice Challenge. 
What future do you want? One which is more environmental & social equal? 🌎 
Then why not join our 6-week Youth for Sustainable Development program? 
👍Explore topics around climate & social justice 
👍Gain key skills, debating, critical analysis, teamwork 
👍Develop long lasting friendships 
👍Guest speakers, case studies & lots of activities
Want to know more about Climate Change and Climate Justice? 
As part of our Climate Justice Eco Week we asked all our amazing speakers including activists, academics, politicians, dancers to share with us their favourite resources that inspire them. We have pulled them all together to share with you a variety of podcasts, playlists, articles, reading lists, ted talks and more….. Take a look at our padlet board you won't be disappointed
If you want to learn more about Climate Justice, then check out our resources page below. We have pulled together some beautiful items to support you with exploring the topic of climate justice and help you on your journey to enacting positive social and environmental change. Enjoy!
Thank you to our partners