First appeared in Business Post on 18th April 2021.
Working with young people, Elaine Nevin finds that while they may not have the experience of older staff, they bring new skills and have just as much to contribute.
Elaine Nevin is the national director of Eco-Unesco, the environmental education and youth organisation. Established in 1986, Eco-Unesco works with young people, educators and youth leaders on environmental projects, including the Young Environmentalist Awards, Youth for Sustainable Development and the Green Youth Employability programmes. Nevin is also chair of the government advisory group on the National Dialogue on Climate Change and a member of the advisory committee for the National Strategy on Education for Sustainable Development.
I grew up on a family farm in Kilkerrin in north-east Galway. Farming gives you a strong work ethic.
It's essentially a family enterprise. You learn early on that you're part of a team. You have your own jobs to do, just like everyone else in the family.
When I was growing up, my mother always emphasised the importance of education. Though I wasn't entirely sure what I wanted to do at the start of my own career, I knew that I wanted to work in education in some capacity.
I also knew I cared about the environment. I studied geography and political science at NUI Galway, graduating in 1991.
After that, I completed a higher diploma in education and headed to Spain where I worked as a teacher for a few years in both Toledo and Madrid. I learned so much during that time, from working with diverse groups of people to multi-tasking, negotiation, organisation and motivation.
When I came back to Ireland in the mid-1990s, I knew I wanted to do something important to me.
We spend so much of our lives "at work". I wanted my work to be an extension of my values, so I suppose I was always going to do something in education and environmental sustainability.
I started to do some club development work for Eco-Unesco. It was one of the very few environmental education organisations around at that time.
I was appointed programme coordinator in 2001 and took up my current role soon after that. Back then, sustainability wasn't as "cool" as it is today.
Over the past 20 years, I've had the privilege to develop and grow the organisation. At Eco-Unesco, we build awareness of our natural environment, develop young people's confidence, knowledge and skills in this area, and empower them to take action.
We also train teachers and youth workers and we liaise with companies and other organisations, helping to support sustainable practices.
In more recent years, with the trajectory of Greta Thunberg's climate movement, listening to young people's concerns about climate change, and to their innovative solutions, has never been so important.
We run a Green Youth Employability programme, which not only equips young people with the skills to seek employment with a focus on the green sector, but also empowers them to implement Corporate Social Responsibility practices related to sustainability in whatever career path they choose.
For anyone starting out in their career, it's so important to have people who believe in you. Starting out myself, I was very lucky to have one boss early on who was just very positive. They gave me the space I needed to grow and develop, and to learn new ways of doing things.
Their advice to me was: don't be afraid to take chances and try new things – and do something you are passionate about. I follow that advice to this day and would say that I am, by nature, an optimistic person. I try to be solution-focused and to encourage creativity in others.
I think everyone needs to be able to give and take constructive feedback. My experience in teaching taught me that young people respond much more to encouragement than to criticism.
I have since learned that this is as true in every other part of life, including the working world. We all make mistakes, we can all do things better and we are all on a road of continuous development.
A mistake is an opportunity to learn. If something doesn't work out, don't beat yourself up. Instead, look at why it didn't go as well as you hoped it would. And remember to learn from your successes as well.
For the young people we work with, getting their first foothold on the career ladder can be daunting. I tell them that when you're talking to employers for the first time, the skills you've learned through your hobbies and interests really do matter. You may not have as much work or life experience as more senior candidates, but you will have learned some important transferable skills through volunteering work, for example, or engagement in youth groups or clubs
Ultimately, people in all walks of life want to be encouraged. They want to do something they are good at and they want to feel valued.
For managers, I think this sometimes means giving people the space they need to develop their strengths and to learn to work to those strengths. It's also important to provide support and direction when it's needed.
The people who work with Eco-Unesco often do so because of the work the organisation does and the values it espouses.
That's a big motivator, so a priority for me in my role is to keep these values at the heart of everything we do: our commitment to environmental protection and sustainability, our empowerment of young people, and our belief in education as a tool for change.
With any new idea, project or development, I try to give everyone involved a chance to contribute at every stage along the way. Ideally, you want them to feel that their contribution is valued.
It's equally important that they understand the potential impact their work could have – the positive change it could help to bring about. At Eco-Unesco, we see that impact in the lives of young people we work with and on the wider environment.
Learning to work remotely has been interesting for us. We have opened up to each other more, I think. We're getting glimpses into each other's lives outside work. Some of the formality that you normally have at workplace meetings has lessened.
There is a greater sense of working together, having empathy and understanding and helping each other out.
Business Post clipping: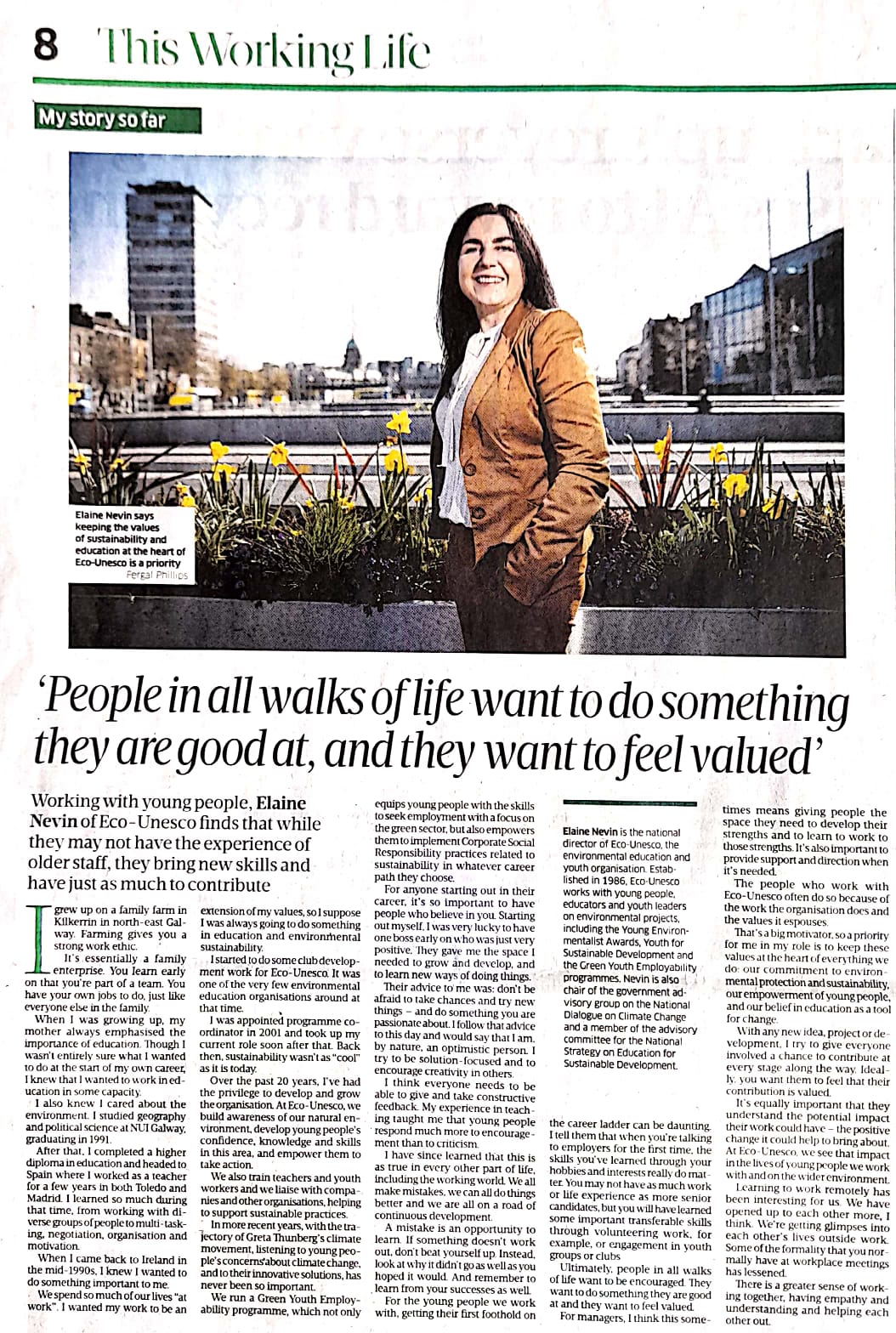 Read the full article here: How I work: 'People want to do something they are good at and they want to feel valued' | Business Post
Photo by Business Post