Youth Climate Justice 2022
Become a Youth Climate Advocate!
The Youth Climate Advocate programme is a fantastic opportunity for 12-18 year olds, to become inspirational leaders and advocates in the areas of Climate Justice and Climate Action. Each participant will be provided with amazing opportunities to practice new skills and grow as a leader, in a safe and supportive environment.
Meet others who share your passion
We will meet after school, online and in-person, from August to November 2022. You will share your experiences, learn from one another, and develop interpersonal skills. The Youth Climate Justice Officer will also be there to support you and help you on your journey. There will also be opportunities to build your network with other organisations.
Learn climate advocacy skills
You will receive a series of workshops on Climate Justice topics, solutions and stories from Ireland and around the world as well as skills-focused training session including but not limited to advocacy and leadership, filmmaking, and campaigning.
You will lead local actions and take part in a campaign, to inspire and empower others to take Climate Action or/and increase awareness about Climate Justice. You will record your progress and log your achievements as you go. Towards the end of the programme, ECO-UNESCO will determine whether you have become a true Youth Climate Advocate, gifting a Certificate of Completion to successful participants. You will also have the option to enter the Young Environmentalist Award, an all-Ireland environmental awards programme that recognises and rewards young people who raise environmental awareness and improve the environment.
Want to know more about Climate Change and Climate Justice? 
Youth Climate Change Challenge 2021
In November 2021 as part of the 'Youth Climate Justice challenge', ECO-UNESCO in collaboration with SpunOut.ie, conducted an online survey with young people. The purpose of the survey is to highlight how young people of Ireland feel about climate change and climate justice issues, how they want to be involved in solving climate issues, how they are controlling their eco-anxiety, what actions they want to take, their interest in green jobs and how they desire to have climate action as part of their school curriculum. The survey took place between November 29th, 2021, to December 5th. The survey included a range of multiple-choice questions along with open-ended questions allowing for personalised responses.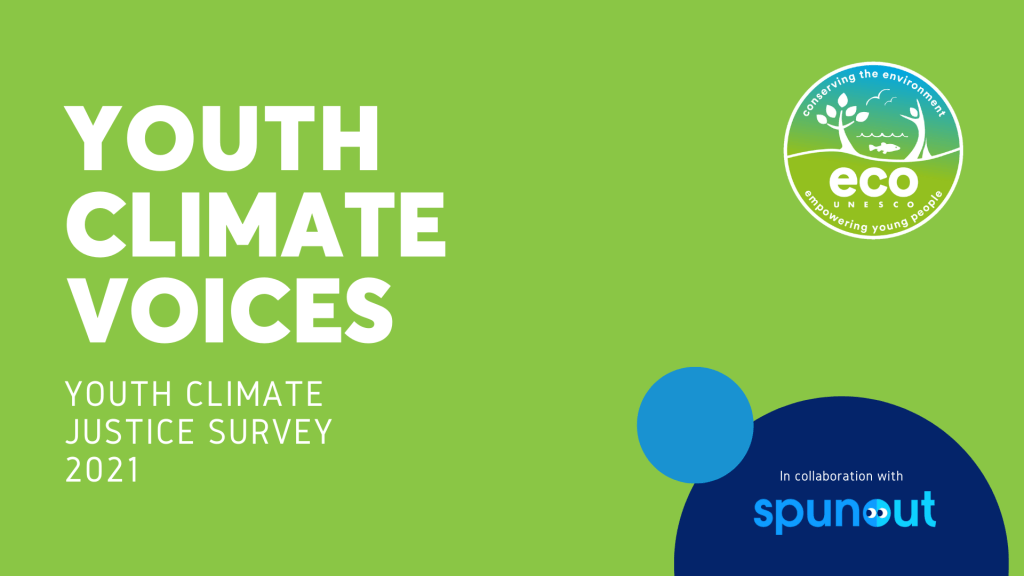 Youth Climate Justice Challenge 2020
Last year we had 11 incredible Climate Justice projects submitted by four youth groups; The Irish Girl Guides, The Irish Girls Brigade, The No Name Club, and ECO UNESCO. 
The Climate justice challenge participants didn't let COVID stop them. They took part in online workshops, sent surveys to schools, tweeted local politicians, made tik tok videos, talked on national radio, ran workshops, wrote articles, and engaged with policymakers from principles to politicians, shop keepers, and the local council.
Their hard work and dedication raised awareness of the topic of climate justice to over 20,000 people. 
The youth groups made short and snappy videos to summarise what they did for their climate justice projects. Take a look here for a daily dose of inspiration.
Youth Climate Justice Survey 2020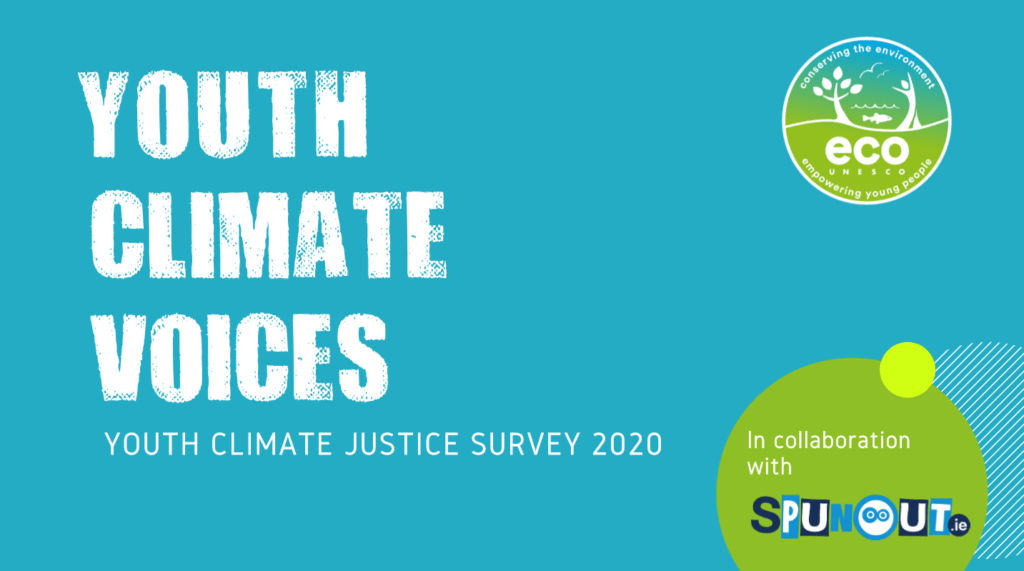 Watch the Youth Climate Voices Video
As part of our Climate Justice Eco Week we asked all our amazing speakers including activists, academics, politicians, dancers to share with us their favourite resources that inspire them. We have pulled them all together to share with you a variety of podcasts, playlists, articles, reading lists, ted talks and more….. Take a look at our padlet board you won't be disappointed
If you want to learn more about Climate Justice, then check out our resources page below. We have pulled together some beautiful items to support you with exploring the topic of climate justice and help you on your journey to enacting positive social and environmental change. Enjoy!