The ECO WEEKS is a week-long initiative that includes a series of online events including workshops, live talks, pre-recorded presentations, competitions, challenges, and broadcast events for young people between 10 to 18 years of age.
ECO WEEKS aims:
Encourage thought, debate, and action around the UN Sustainable Development Goals ​
​Inspire, educate and inform young people about study and career opportunities in sustainable development
2nd ECO-WEEK - November 2020 - Climate Justice
In November 2020 we celebrated our second ECO-WEEK focused on Climate Justice and Change.
The aim of this week was to inform young people on the topic of Climate Justice, equip them with skills and knowledge on how they can take action at an individual practical level and at local policy level.  
During this week young activists shared their stories on how they have taken action and made a positive impact in their communities. 
This ECO-WEEK was in collaboration with ECO-UNESCO's Youth Climate Justice Programme.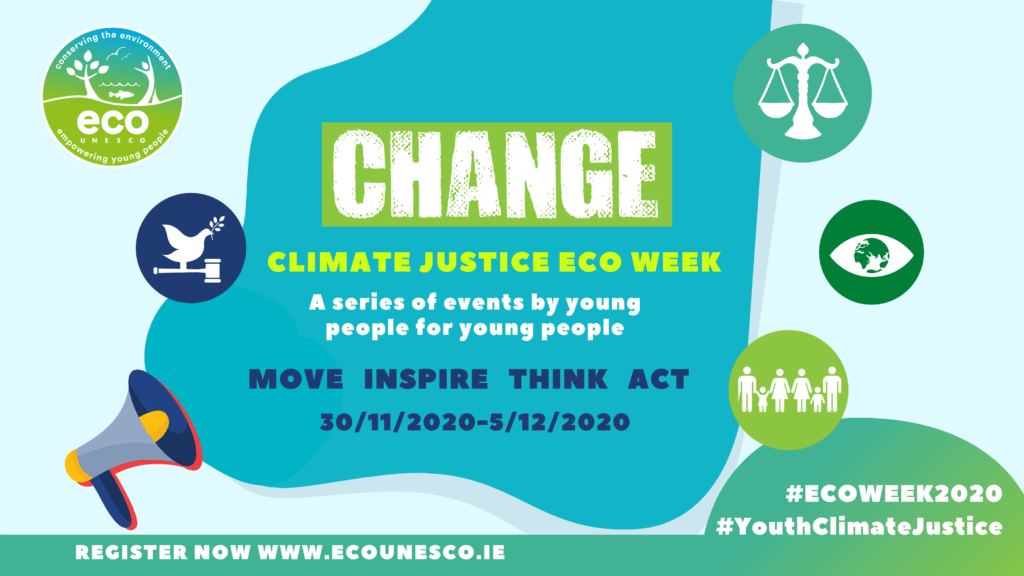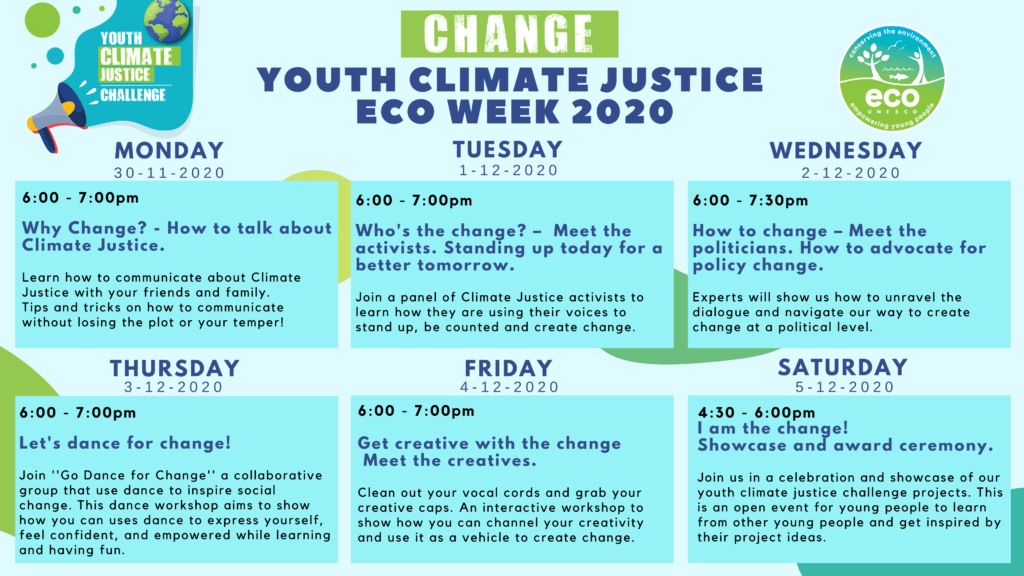 1st ECO WEEK - May 2020 - Food, Fitness, Fashion & Future!
In May 2020 we celebrated our first ECO-WEEK focused on Food, Fashion, Fitness, and Future. In this opportunity, we aimed at all Young Environmentalist Awards participants and all young people in Ireland between ages 10-18. During the week we also announced & celebrated the Young Environmentalist Awards Ceremony 2020 and recognised the achievements of the action projects.
25 events were hosted during the week with 600 participants.​
Some events were in collaboration with Friends of the Earth.
More ECO-WEEKS coming soon...
We are working towards our next ECO-WEEK from the 19th to the 23rd of April 2021.
Stay tuned to our social media channels for more updates.