ECO-WEEK from 16th -20th May 2022
Celebrating biodiversity week
From the 16th to the 20th May, ECO-UNESCO hosted ECO-Week 2022 in celebration to Biodiversity Week.
We also celebrated the Young Environmentalist Awards Ceremony 2022.
4th ECO-WEEK from 19th -23rd July
We handed over our Instagram to ECO-UNESCO's young environmentalist to deliver a daily dose of information and inspiration. 
Our takeover teams turned in and took over Instagram to bring you: chirpy chats on environmental topics, inspiring information, savvy solutions and community challenges. 
The event was celebrated through ECO-UNESCO'S Instagram account. You can re-watch young people's sessions and check out our daily posts, stories and reels designed for you by young people > WATCH HERE
Celebrating Young Environmentalists taking action🌍
ECO WEEK was a week-long initiative that included a series of online events focused on environmental topics as Fast Fashion, Marine life, Biodiversity, Young people's actions, Plastic and much more. These events took place as online webinars, talks, workshops, challenges, and televised events. Additionally, on Wednesday 26th May we announced the winners of the Young Environmentalist Awards 2021.
2nd ECO WEEK - CHANGE - Climate Justice
The Climate justice ECO WEEK is a week-long initiative that includes a series of online events. The main aim of the program is to showcase to young people positive solution-based examples of people, projects and programs working towards a fairer and more just future. The focus of the week with be creating a program delivered for young people by young people.   
The week will conclude with a showcase and award ceremony for the participants of the climate justice program.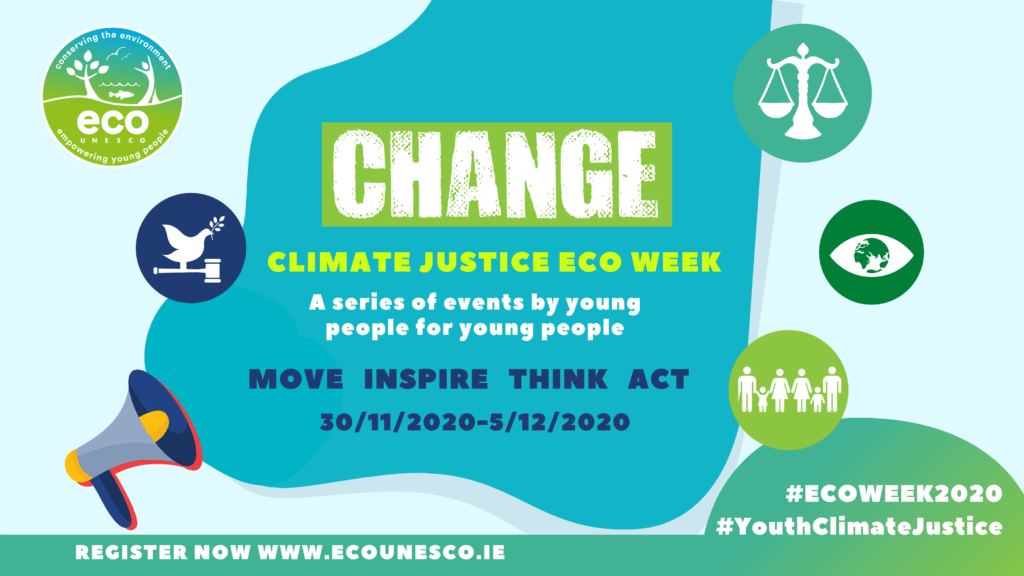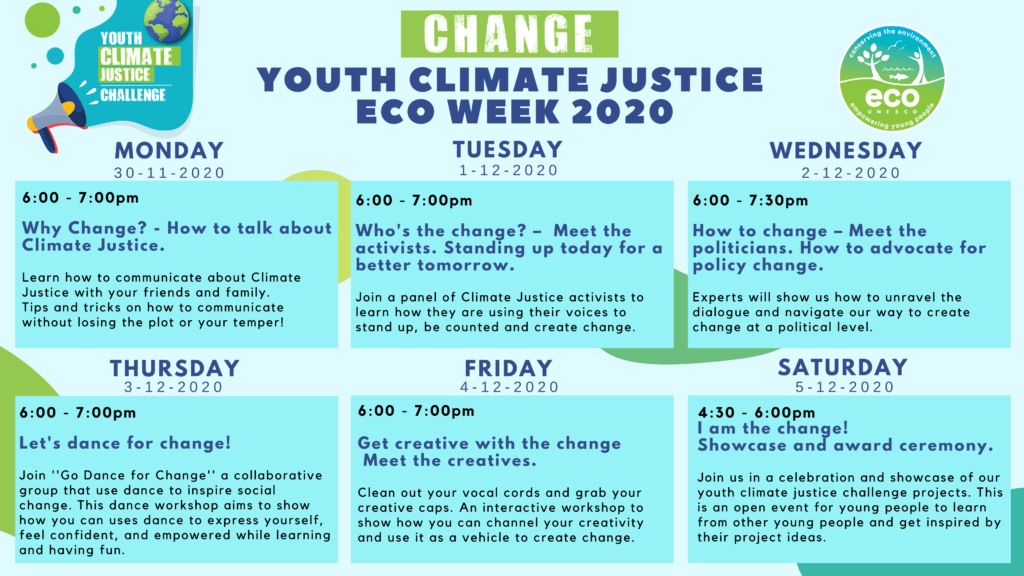 1st ECO WEEK - May 2020 - Food, Fitness, Fashion & Future!
In May 2020 we celebrated our first ECO-WEEK focused on Food, Fashion, Fitness, and Future. In this opportunity, we aimed at all Young Environmentalist Awards participants and all young people in Ireland between ages 10-18. During the week we also announced & celebrated the Young Environmentalist Awards Ceremony 2020 and recognised the achievements of the action projects.
25 events were hosted during the week with 600 participants.​
Some events were in collaboration with Friends of the Earth.
More ECO-WEEKS coming soon...
We are working towards our next ECO-WEEK in June!
Stay tuned to our social media channels for more updates.