With all this extra time we're spending at home, you may have taken an interest in baking! Or maybe you're like me, and you've always enjoyed baking, but now you have more time to do it. Either way, it's important to try to be sustainable in the ways we bake!
Here are some of my tips on how to be a more Sustainable Baker:
Silicone Baking Mats
One of the ways you can reduce the waste you produce in the kitchen is by buying some silicone baking mats. These can be used to line baking tins just as you would with greaseproof paper, and can then be washed and used again! Silicone baking mats are available in different shapes and sizes, and are made to last.
You can also buy reusable muffin cases which can be washed after use. This saves on all the paper bun cases that barely make it out of the oven before the muffin is eaten! (As well as reducing the plastic waste from the packaging!)
At the end of its life, silicone is recyclable in some facilities, so check your local waste facility.
Baking Paper
If you would prefer to use baking paper, remember that not all baking paper is compostable or recyclable, because of the silicone or paraffin coating on the paper to make it non-stick. Things to look out for are recycled, biodegradable, FSC certified (responsibly-sourced paper) and non-bleached.
Another option is to go without! Some recipes will work fine without greaseproof paper if you grease the tin well with butter, margarine or another substitute. This brings me to my next point!
Save those butter wrappers!
If you use blocks of butter or margarine, keep the wrappers in the fridge, then use them to grease the tins before baking. There's usually enough butter left on the wrapper. My granny always had a stash of old margarine wrappers in the fridge, used until breaking point! She would even sometimes use the wrapper itself to line the tin (butter side up)! This is just one example of getting the most out of non-recyclable packaging.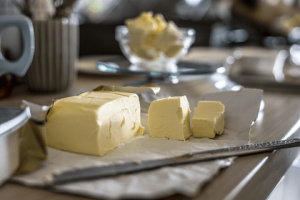 Try to buy packaging-free ingredients
A few months ago, a found a shop nearby called Cult Zero that sells packaging-free foods, like nuts, chocolate chips, oats, teas, pasta… the list goes on! It's so wonderful to be able to buy products that usually come in plastic in other shops. All you need is a container (or they have paper bags available in my local shop if you forget!), and they will fill it for you! Washed and reused take-away containers are great for this. Biscuit and sweet tins are also great for getting foods in larger amounts, although it's heart-breaking to open a biscuit tin only to find porridge oats! Shops like this are becoming more common around Ireland, try searching terms like "Zero waste shopping" or "plastic free shopping" to find a zero-waste shop in your area.
In your local grocery store, try bringing your own produce bags instead of using the plastic bags made available. You can buy net bags especially for this purpose, or try upcycling an old t-shirt at home to make a handy tote bag for your fruit and veg!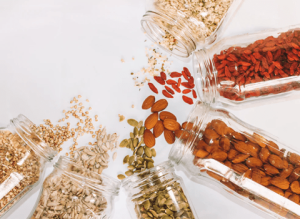 Freezing baked goods
Many baked goods freeze well, baked or unbaked, so check the recipe to see if you can freeze what you're making. I often have a stash of unbaked cookies in the freezer ready to go! This helps reduce waste if you're afraid some of the food will go stale before you eat it all. Avoid turning on the oven for just a couple cookies though, that is a waste of electricity!
Buy Local, Organic and Fairtrade ingredients
It's important to buy sustainably produced ingredients. A great way to do this is by buying locally-produced ingredients, which can be a simple as "buying Irish" from the grocery store. If it is within your budget, organic foods don't contain synthetic fertilisers and pesticides, and are better for you and the environment. Fairtrade ingredients are responsibly sourced, taking into consideration the livelihoods of farmers and their communities. Ingredients like chocolate, bananas and sugar can be purchased Fairtrade. This reduces your impact on the environment and on the people who produce the ingredients in your baking.
Reuse materials
Materials such as aluminium foil and foil trays can often be reused. Simply wash it, make sure it is clean and fully dry before storing it, and use it again! Clean aluminium foil is recyclable, so when you're finished with it, make sure to wash, dry and recycle it.
Reusable piping bags
If you like to pipe icing on cakes, cupcakes or cookies, try using reusable, washable piping bags, rather than disposable ones which are often made of soft, non-recyclable plastic. These are available in different sizes and styles!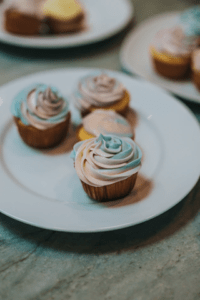 Use up leftovers
If you have leftovers (that's a big "IF"!), make them into something new! Use leftover sponge cake in a trifle or make it into cake pops, crumble cookies onto ice-cream or make a cheesecake base, make stale bread into French toast or bread and butter pudding! The options are endless! See what you can create with your leftovers.
Plan ahead!
Try to decide what you would like to bake before your next grocery shop, so you can buy what you need. Only buy the amount you need if it's not something you bake with regularly! This will help reduce waste, especially of perishable goods (e.g., butter and cream).
If you try just one of these tips, you've made a great start at becoming a more sustainable baker! Nobody is perfect, so try what works for you, and let us know how you get on!
Happy Baking!
By Sarah Austin